Community Efforts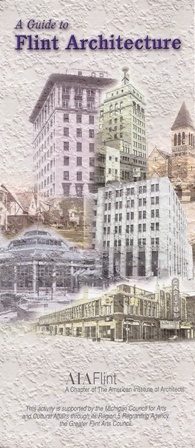 Flat Lot Competition Winner
Flint Public Art Project and AIA-Flint Announce Two Islands as the Winner of a $25,000 Award to Build a Temporary Summer Pavilion on Flint's Central Parking Lot
Flint, Michigan – Flint Public Art Project and the Flint Chapter of the American Institute of Architects announce that Two Islands, a team of architects and designers based in London, have won the $25,000 grand prize in the inaugural Flat Lot Competition to design and build a temporary summer pavilion on Flint's central downtown parking lot. The project opens June 14 for Flint Art Walk and will remain on the site until fall.
The winning proposal, Mark's House, tells the story of an imagined Flint resident, Mark Hamilton, whose family loses a home to foreclosure. The project perches a Tudor-style house clad in reflective panels on top of a mirrored pedestal, giving the structure the appearance of floating in mid-air. The house serves as a metaphor for both what the city has lost as well as its ongoing revitalization, while also providing a canopy and stage for flat lot events. In addition, the structure can hold up to 1,500 gallons of water, which can be released as a cooling spray during hot summer days.
"We're thrilled that the first design-build competition organized by Flint Public Art Project and AIA-Flint produced a beautiful symbol of a new city," says Stephen Zacks, executive director of Flint Public Art Project.
Flint Public Art Project and AIA-Flint launched the competition last fall. The competition brief called for a temporary structure that would take up no more than eight parking spaces, and would support public programs by providing amenities such as seating, shade, cooling devices, and a stage for performances. Nearly 400 teams from more than 35 countries around the world registered for the competition, and 221 entries ultimately were submitted by the March 1 deadline.
"The winning proposal shows how art and design can transform Flint's public spaces," says City of Flint Mayor Dayne Walling. "This project will provide an amenity for all Flint residents and visitors to all of our great summer events at the Flat Lot."
"Flint has received an incredibly positive response from around the world for the competition," says architect Shannon Easter White of AIA-Flint, one of seven jury members. "We selected Mark's House because it was a poetic and bold structure that will continue to bring positive attention to the city."
Two Islands is a London-based design studio, founded by William Villalobos, Cesc Massanas, and Tom Selva.
"The city of Flint and the competition organizers have given us a great opportunity to create a forward-looking project," says William Villalobos of Two Islands. "We're very excited to build the structure."
Three other projects received honorable mention:
Stage a Lot by KSE Studio (Sofia Krimizi and Kyriakos Kyriakou) of Brooklyn, NY
Building Bodies for Work by Wes Janz, Tim Gray, and Andrea Swartz of Ball State University
AC.H2O by Mike Ting of British Columbia, Canada
These projects and 17 others will be exhibited along with Mark's House at an exhibit to open on April 12 during the Flint Art Walk.
The Flat Lot Competition panel was chaired by Reed Kroloff, director, Cranbrook Academy of Art. Other panel members included Pedro Gadanho, curator of contemporary architecture, MoMA; John Gazall, Flint-based architect, board member, Downtown Development Authority, and member of AIA-Flint; John Henry, director, Flint Institute of Arts; Monica Ponce de Leon, dean, University of Michigan Taubman College of Architecture and Urban Planning; Shannon Easter White, Flint-based architect and member of AIA-Flint; and Stephen Zacks, executive director, Flint Public Art Project.
The competition is supported by ArtPlace, the Community Foundation of Greater Flint, Flint Downtown Development Authority, Uptown Reinvestment Corporation, and Michigan Architectural Foundation.
Flint Public Art Project is produced by Amplifier Inc. with support from ArtPlace, in affiliation with Flint Institute of Arts, Red Ink Flint, and Fractured Atlas.
124 W. 1st Street, Flint MI 48502Follow on Facebook www.flintpublicartproject.com
SERVING OUR COMMUNITY
Click to Download the Flint Guide to Architecture
Service to the communities in which we live and work is a high priority among AIA architects, as affirmed in the National organization's mission statement.  AIA Flint members are actively engaged in our communities.  Many members serve as elected officials in local government, on planning commissions, as board members of non-profit organizations,  and through various associations and committees.  In addition to the extensive volunteerism demonstrated by individual members, AIA Flint has become a leader among professional associations in the effort to improve the Flint region through active involvement in local initiatives.  AIA Flint strives to become a leader in community involvement through hands-on efforts in partnership with local residents and neighborhood associations.
Our largest effort to date is the AIA150 project, a grassroots community design and improvement initiative,  which began through a grant from AIA National in 2006 and concluded with the publication and public presentations of the process and results in 2009.  Generous support from the Ruth Mott Foundation facilitated on-going printing and distribution of the document.  Click the AIA150 tab for more information about this initiative.
AIA Flint welcomes the opportunity to serve on worthy projects, providing low cost or pro-bono design services and grassroots planning support.  Please contact us for more information.
PARK(ING) DAY 2010
On September 15, 2010 AIA Flint members and friends participated in the Park(ing) Day event held in downtown Flint.  Park(ing) Day is an international event intended to draw attention to urban green space issues.  Participants convert a single parking space into an urban park for the day.  AIA Flint would like to recognize our Sponsor, Van Atta's Greenhouse and Flower Shop located in Haslett, Michigan for providing the trees, plants, and shrubs for the AIA Flint Park.